Cat Tote Bag
Fast Shipping
Money Back Guaranteed

Secured payments
Size
14" x 14" x 6"
Weight Limit: 15 lbs
Package includes
1x Cat Tote Bag
We process orders between Monday and Friday and do not ship on Saturday and Sunday. Orders will be processed in 3-7 business days after receiving your order confirmation.

Orders that have been processed in the US will take 5-15 business days to arrive. For international orders, it can take between 7-20 business days for your product to arrive, depending on where you live. However we do ensure we can track our orders for your extra piece of mind.

We also ship worldwide, so you can shop with us wherever you are.
We truly believe that we offer some of the most innovative and inspirational products in the world, and we want to make sure we back it up with a risk-free ironclad 7-day guarantee. If for any reason you are not satisfied with the order you received, please contact us at support@cuddlesmeow.com, and our order team will assist you right away.
LOVED BY THOUSANDS OF KITTIES
LOVED BY THOUSANDS OF KITTIES
LOVED BY THOUSANDS OF KITTIES
LOVED BY THOUSANDS OF KITTIES
LOVED BY THOUSANDS OF KITTIES
LOVED BY THOUSANDS OF KITTIES
LOVED BY THOUSANDS OF KITTIES
LOVED BY THOUSANDS OF KITTIES
A TOTE BAG THAT LETS YOU TRAVEL WITH YOUR CAT IN STYLE!
No more bulky carriers or unreliable travel bags that make your cat feel unsafe and uncomfortable! With our Cat Tote Bag, you can finally bring them around with no hassle but with full comfortability for both you and your cat! Time to show others how stylish your fur-family is!


BUY NOW
BE ON OUR TEAM
JOIN OUR 15,000+ HAPPY CUSTOMERS
WHY CHOOSE US
YOUR CAT WILL LOVE YOU EVEN MORE
MULTI-FUNCTIONAL TRAVEL BAG
The Cat Tote Bag is specifically designed for holding your cat while you're on the go comfortably, but it can also double as a bag to store all of your stuff whenever you decide to go outside without them! The bag is also designed to provide a lot less strain on your shoulders, so that you can keep bonding with your cat outside for longer!
The bag is made of strong, breathable material that will give your cat a comfy and safe feeling, preventing them from wanting to go out of the bag and instead stay snug inside of it! And don't worry, because aside from a hole for their head to poke out of, it also has one for their tail so that it freely move around too!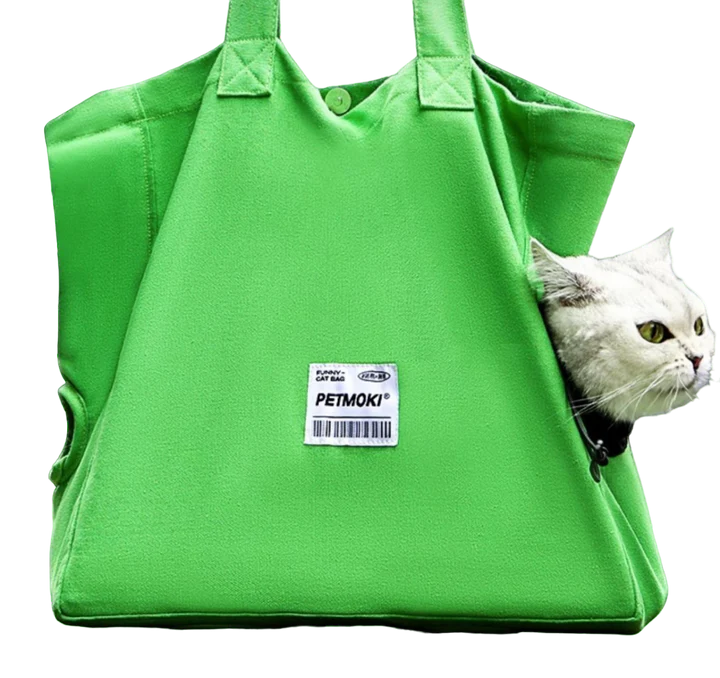 FOR WALKING, AND FOR CARRYING
The Cat Tote Bag not only helps in carrying your cat, but when your shoulders feel tired, you can just have their legs poke out of the holes at the bottom and let them walk at their own leisure! Good for both lazy, and active kitties!
With double-lock buttons and a drawstring to adjust the hole where your cat's head peeks out of perfectly, as well as a strong board-like material at the bottom to make sure that your cat is laying down flat snuggily inside of the bag, the Cat Tote Bag is extra secure while still maintaining comfortability!
highly trusted products
trust is earned, not given
Fast Shipping
Customer SupportThat Cares
7 Days MoneyBack Guaranteed
Secured Checkout
Great for giving eye medicine
I bought this to give my very shy cat his eye medicine. It has worked perfectly for my needs. He is not able to wriggle away or kick my hand away from his face.
Perfect for my larger male cat
Hes much bigger than my female and needed more room. I now have a bag for each. They dont love it. But they hate it less than the hard carrier. Also easier for the vet to give them shots.
Great for my very anxious cat who HATES the hard cat carrier!
My cat FREAKS OUT when I try to get him into the hard cat carrier. I've also tried the soft cat carriers, but he fights so much that in the past I've actually had better luck with the hard carrier pushed against a wall to help when he resists. I think he is afraid of having something over him- he likes being in boxes for fun, but never with any kind of 'lid'. Since I know he is very wary of his safety, to make this cat bag work as best as I could, here is what I did: 1. took the bag out a few days before we went to the vet, and just let it lay around the house so it was no big deal to him. 2. Tried the bag out with my other cat (who is more adventurous!) to practice with the neck strap. 3. Sprayed the room and cat bag with Feliway (cat calming spray) the morning before our afternoon appt. My anxious cat does sometimes enjoy being cuddled in a blanket, so the day of our vet visit, I calmly wrapped him in a blanket, sat on the floor with the cat bag in front of us and gently guided him from the blanket into the neck hold of the cat bag. He did resist a bit (of course!) but it was SO MUCH easier and less stressful for both of us than the hard cat carrier, which has been a nightmare in the past.